You are here
Content
Meals
For breakfasts, lunches and evening meals, you can choose between various menus including a vegetarian option. In our Patient House and on some wards you can select your own meal from a buffet. We also offer pork-free meals for our Muslim patients.
Food in our Patient House
Our Patient House offers you a comfortable hotel-like atmosphere which allows you maximum flexibility and independence. For this reason food is not brought to your bedside – patients eat their meals in its restaurant. We offer a breakfast and a dinner buffet. For lunch you can select from various menus. Family and visitors can also eat in our Patient House restaurant.
Bistro and Cafeteria
A wide selection of snacks, rolls, drinks, confectionery and magazines are available in our Bistro "Campus Lounge".
Context Column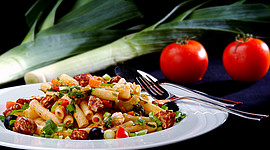 Special Dietary Requirements
Up to 400 meals per day are prepared to cater for a great variety of diets. These fulfil the special needs of patients with allergies or stomach disorders.